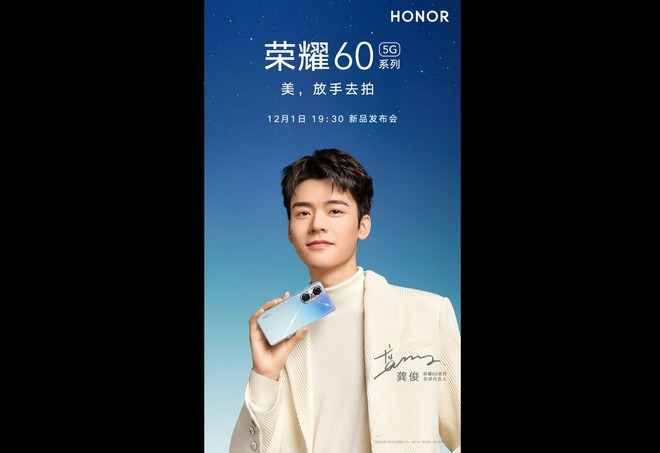 Honor 60 is on the way, even though on the web it was initially indicated yesterday as the day of presentation. It doesn't matter, because the announcement date – sure this time – is December 1st, therefore in exactly one week (note: that November 22 was indicated by Honor for an announcement there is no doubt, the fact is that the announcement has been the announcement of the date on which Honor 60 will be … announced). And everything is ready, as the brand demonstrates on Weibo, even declaring pre-orders open on the main Chinese e-commerce platforms (JD and Suning, just to name a couple).
To draw attention, the company has published the first official image of the smartphone, heir to that Honor 50 that has just arrived on Western markets. From the point of view of design – at least of the rear body – there does not seem to be any big news compared to the previous generation (or current, better to say). There remains the photographic module consisting of the eye-catching double circle: there should be three cameras – one per circle plus a third, smaller, in the middle – and therefore one less than the Honor 50.
Unfortunately, other information is lacking, but a short video teaser published on Weibo allows us to peek at the design of the front too, characterized by slightly curved display edges and rounded corners. From the certifications, it is known that the battery should support fast charging at 66W, but we are not certain about the diagonal of the display, processor, memory, and specifications of the individual cameras. There is no doubt then that the international version will support Google services.
Variations are also expected with Honor 60 Pro and Honor 60 SE (therefore we are not sure which variant it is in the image and the video). The Chinese brand is in a hurry to regain important market shares – not only in the motherland – and marketing should start already by the end of the year.