LG Display will use the setting of CES 2022 (5 – 8 January, Las Vegas) to present the latest innovations in terms of OLED screens. The Korean giant usually brings unusual solutions to fairs of this type: we remember for example the "smart bed" with motorized transparent OLED shown at CES 2021 or the gaming monitor equipped with a panel with adjustable curvature.
The 2022 edition of the Consumer Electronics Show will see the debut of two new prototypes named "Virtual Ride" And "Media Chair". The common feature of both is the use of flexible OLED panels, a peculiarity chosen to highlight the potential and flexibility of OLED technology. Virtual Ride is an 'evolution of the classic exercise bike which combines physical activity with a more engaging experience for the user.
Three 55 "OLED screens, vertically oriented, are placed in front of and above the exercise bike and form a single curved screen. The curvature is more pronounced in the panel located at the top: we are talking about 500R, corresponding to a circle with a radius of 500 millimeters. The goal of this particular installation is the recreate a kind of pedaling in a virtual environment, showing the landscape flowing in front of and above the user.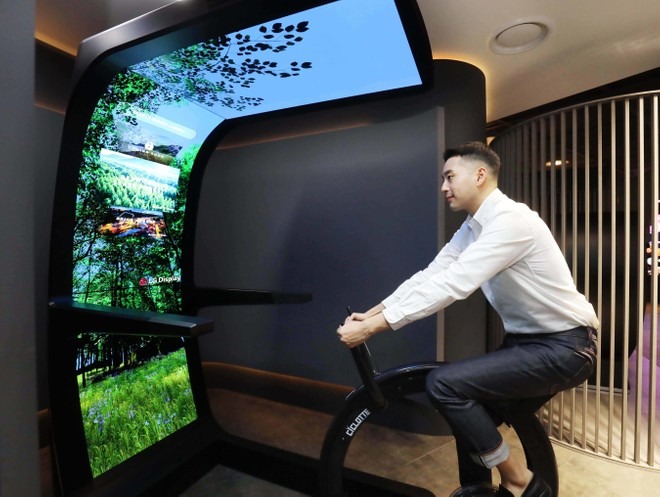 The Media Chair, on the other hand, is designed to provide a system capable of entertaining and relaxing the user. As you can guess from the name itself, it is a reclining chair designed to guarantee maximum comfort. One is mounted on the front side 55 "1.500R curved OLED screen; the angle of curvature, corresponding to a circle with a radius of 1,500 millimeters, was chosen as it was considered optimal to ensure maximum involvement given the viewing distance.
The screen can be too rotated vertically (and vice versa) by simply pressing a button on the armrest: in this configuration, the Media Chair is transformed into a sort of information system that facilitates the consultation of information or websites. The sound is diffused directly from the screen, without the use of speakers of any kind: technology Cinematic Sound OLED (CSO) recreates the audio through actuators that induce vibrations on the screen, the same principle that Sony has adopted for years on its OLEDs through Acoustic Surface Audio technology.
Yeo Chun-ho, Head of Business Development Division for LG Display, said:
We will continue to provide our customers with diverse capabilities through the infinite potential of OLED technology as we continue to integrate our businesses across multiple industries.