L'Anthem Day 2021 from OPPO is offering us a nice glimpse into the near future of the Chinese company, and as expected among the novelties unveiled we have an NPU image processor for cameras: it is called OPPO MariSilicon X and it seems to promise great things. Let's find out the data released and what we know.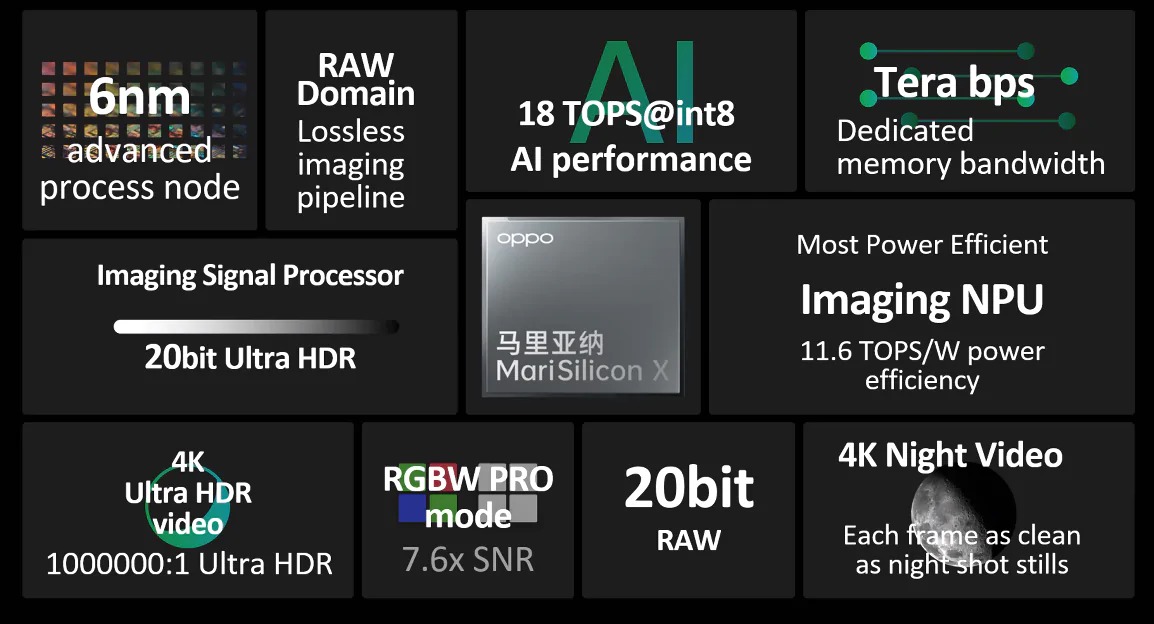 OPPO MariSilicon X is among the protagonists of the Anthem Day 2021
During the event held in Shenzhen, China, the founder and CEO of OPPO unveiled a new NPU (Neural Processing Unit), which will debut on Android smartphones and other OPPO tech products in the coming months. MariSilicon X is the first NPU for proprietary imaging of the Chinese house: built with a production process a 6 nm, it combines NPU, an ISP, and multi-tiered memory architecture.
This enables high performance combined with energy efficiency, real-time RAW image processing, and the opportunity to capture 4K video in AI Night Video mode with live preview.
"With over ten years of experience pushing the boundaries of imaging technology, OPPO has pioneered some of the industry's biggest innovations in camera modules, lenses or algorithms.", commented Jiang Bo, Senior Director of OPPO. "Our new NPU for state-of-the-art imaging is the biggest technological advancement we've made so far, it will bring more processing power and create amazing user experiences."
MariSilicon X NPU offers 18 trillion operations per second (TOPS), with an energy efficiency of 11.6 TOPS per watt and an innovative dedicated tera-bps memory subsystem, which allows you to make full use of the computing power without memory limitations. It has a dedicated DDR with extra bandwidth up to 8.5 GB / s and a multi-tiered memory architecture that minimizes delays and reduces power consumption.
Compared to the performance offered by OPPO Find X3 Pro, when the AI ​​algorithm for noise reduction is running the new NPU is capable of reaching performance up to 20 times higher. It can count on a powerful IPS for capturing images with a 20-bit dynamic range and 120 dB, 4 times higher than that of the smartphone just mentioned, and which allows a contrast ratio equal to 1,000,000: 1 between the brightest and darkest areas of the image.
MariSilicon X directly performs 4K real-time processing and handles 20-bit HDR in pixel-level RAW. This allows you to achieve a signal-to-noise ratio of 8 dB for images. Using the Dual Image Pipeline design and dual RAW super sampling, OPPO's MariSilicon X harnesses the potential of RGBW sensor, for a 1.7-fold improvement in texture quality: it is able to capture a greater amount of light thanks to the white pixels, processing the latter separately from the RGB pixels.
Thanks to these advances in performance and efficiency, the processor maximizes the power of AI algorithms by creating clearer and sharper video, with greater dynamic range and better color reproduction. For the first time on an Android smartphone, the registration of 4KAI HDR night videos.
Availability of OPPO MariSilicon X
OPPO MariSilicon X will arrive in the course of the first quarter of 2022 with the series Find X, so we won't have to wait long to get our hands on it. Are you satisfied with what you have seen so far on the new NPU of the Chinese house?