In addition to the ranking of the most performing smartphones, AnTuTu also published that relating to the most popular devices in December 2021.
The most praised smartphone in the last month of 2021 in the Chinese market is Samsung Galaxy Note 20 Ultra, a longtime user favorite mobile device.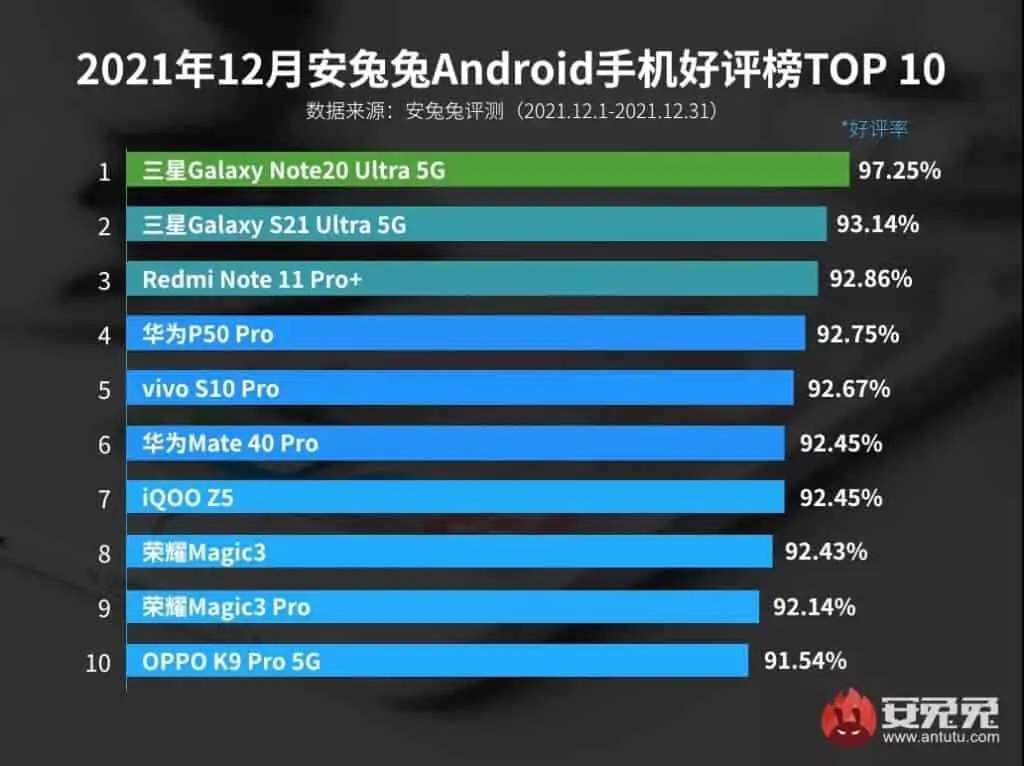 Samsung Galaxy Note 20 Ultra is the most popular smartphone in China
Interestingly, Samsung Galaxy S21 Ultra 5G, the company's latest flagship smartphone, finished in second place.
Samsung Galaxy Note 20 Ultra took first place with 97.25% of the vote, while Galaxy S21 Ultra 5G is a bit behind in second place with 93.14%.
Redmi Note 11 Pro + completes the podium maintaining the third position as the previous month with a percentage of 92.86.
The rest of the ranking sees in the order Huawei P50 Pro (92.75%), Vivo S10 Pro (92.67%), Huawei Mate 40 Pro (92.45%), in Z5 (92.45%), HONOR Magic3 (92.43%), HONOR Magic3 Pro (92.14%) and OPPO K9 Pro 5G (91.54%).
Thanks to its specifications, Samsung Galaxy Note20 Ultra has not yet become obsolete, and Chinese users are all diehard fans, factors that have determined its first place in the list of favorite smartphones.
This device is equipped with the Qualcomm Snapdragon 865+ SoC, which offers a 6.9-inch dynamic AMOLED display that supports a refresh rate of 120 Hz and a resolution of 1440 x 3088 pixels, also has 12 GB of RAM and 128 GB / 256GB / 512GB of internal memory.
Samsung Galaxy Note20 Ultra offers a triple rear camera with a 108MP main sensor and is powered by a 4,500mAh battery that supports 25W fast charging.
Not to be missed: Best Android smartphones: the ranking of January 2022