With the advances in the Samsung 2022 TV range, they are now more and more complete. The source is, as always, the site of the National Radio Research Agency (NRRA), the Korean body that certifies all products that use the radio spectrum. After the first indications on QLED, Neo QLED Ultra HD, and Neo QLED 8K, confirmations are now coming on the arrival of the new The Frame.
Even TVs designed to act as digital panels, as well as televisions, will be updated in 2022, as has been the case now regularly since their debut dating back to 2017. This line belongs to the offer. Lifestyle TV, after all, is a success for the Korean giant: in 2021 alone, over 1 million units were sold.
The new series is called LSB03 and for now, it counts three cuts from 43 "to 65". If there are no changes compared to the year that is about to end, we should speak in a total of 6 diagonals with the upper extreme represented by 85 ", a model that was proposed for the first time in 2021. In Italy and Europe, the identifier will almost certainly change to LS03B.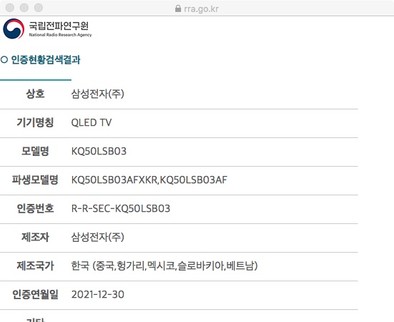 The panels are LCD and will have a resolution Ultra HD. Equally certain is the use of Quantum Dot, declared by the same card on the NRRA website: in fact, we read that all The Frames are QLED. To follow all the certified cuts to date:
43 "KQ43LSB03
50 "KQ50LSB03
65 "KQ65LSB03
Compared to the current range, the 55 ", 75" and 85 "are still missing. For the specifications we will have to wait a little longer: the first indications should arrive in the first days of next week when Samsung will announce the news coming to CES.