About three weeks ago, Samsung released the Android 12-based One UI 4.0 beta update for the Galaxy S10 and Galaxy Note 10, but a few days later the company released the second update to fix critical bugs. Now the South Korean giant has released the third One UI 4.0 Beta build for these smartphones.
Samsung releases the third Android 12 update for the Galaxy S10 and Note 10
Samsung has recently announced the availability to download the third One UI 4.0 Beta update for Galaxy S10 and Galaxy Note 10 users residing in South Korea.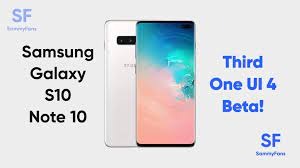 The firmware version for this update ends with ZULB for Samsung Galaxy S10e, Galaxy S10, Galaxy S10 5G, and Galaxy S10 +, while ending with ZULD for Samsung Galaxy Note 10 and Galaxy Note 10+.
These new beta updates include various bug fixes and performance improvements, but most importantly they fixed the bug that prevented images captured using Dual Messenger from being displayed in the Gallery app.
The updates also fixed the glitch that slowed smartphones when receiving notifications and connection errors with the AKG N400 true wireless headphones.
The update is currently only available in South Korea, but Samsung may release it in more regions, including Europe, in the coming days.