The current cars are real computers on 4 wheels. Software development it can bring important advantages to cars, especially electric ones. In fact, car manufacturers can release, over time, updates which not only introduce new features but also improve existing ones. We are not just talking about news at the infotainment level but also about optimizations of the powertrain to obtain, perhaps, greater autonomy and shorter charging times.
Precisely in this regard, an interesting news arrives from Skoda. The car manufacturer, in fact, has announced a new dedicated software version to its electric Enyaq iV and Enyaq Coupé iV. Let's see the news.
UPDATE FOR EVERYONE
The new version of the car software will be pre-installed on all new models. For the Enyaq iVs already in circulation, the update will be available in the second half of 2022. No OTA updates, However. For installation, explains Skoda, it will be necessary to go to the dealership (the update will be free).
The first novelty that is introduced concerns the "battery care" function. By enabling it, the battery will never be charged more than 80% of its capacity. In addition, the maximum DC charging power will be reduced. This is a function designed to extend the life of the accumulator. Obviously, users, at any time, can deactivate it.
There is also a new driving profile for the versions of the electric SUV with dual engine and all-wheel drive. The "Traction mode" is designed for driving on dirt roads. Also there charging management while traveling has been simplified. In the navigation system, for example, an alternative charging station can be added to the route by pressing the "Add" button. For all planned charging stops, the remaining battery capacity and the expected charging time are shown in detail.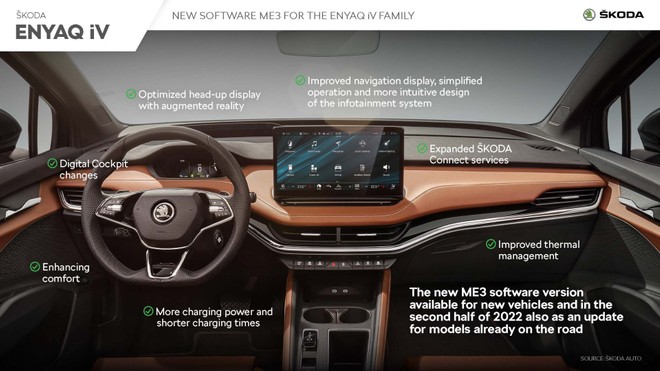 The new software also introduces improvements to the Digital Cockpit and Head-up Display. For example, the Head-up Display now also shows the battery charge level. More importantly, the update offers a improved thermal management of the battery. This means that the accumulator will reach the ideal operating temperature more quickly. The optimization of the functioning allows to improve the efficiency of the accumulator which translates, among other things, also in an increase of autonomy.
The update it also improves DC charging. The models with the 62 kWh battery now have a charging power of up to 120 kW thanks to the new software and up to 135 kW for the models with the 82 kWh battery. Finally, the update improves Skoda's infotainment system and related services as well as offering a series of small optimizations to the ADAS.
VIDEO