Information on the upcoming Samsung Galaxy S22 range continues to leak, after the very latest regarding the design, today we return to talk about accessories and colors.
The official cases of Samsung Galaxy S22 Ultra
Thanks to the accessories dealer MobileFun, we can get a clear idea of ​​who will be the official accessories of the next top of the range of the Korean house. The list consists of a clear cover, clear countertop cover, leather cover, countertop protective case, silicone cover, silicone cover with strap, Smart Clear View Cover, and Smart LED View Cover.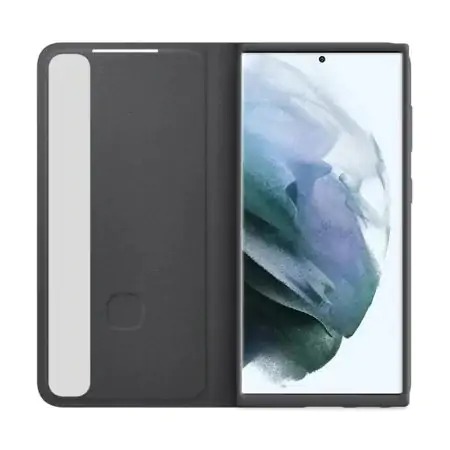 The cases you see in the gallery above will be available as follows:
Transparent cover: transparent
Standing transparent cover: transparent
Leather upholstery: black, burgundy, light gray
Standing Protective Case: Navy Blue, White
Silicone cover: black, burgundy, lavender, olive green
Silicone cover with strap: navy blue
Smart Clear View Case: Black, Burgundy, White
Smart LED View Cover: Black, Gray
New red color for Samsung Galaxy S22 Ultra
After yesterday a leaker had released the details on the green color of the next Samsung Galaxy S22 Ultra, today thanks to Yogesh Brar we can get an idea of ​​what the smartphone will look like in your red variant. Through Twitter, what should be the color code of the variant, that is # B61919. Let's Go Digital colleagues immediately created a render that you can admire below.
Some may perhaps notice the difference with the burgundy red color that Samsung used on the Galaxy S8 and S9, here it is a brighter and clearer variant but still just as elegant. In reality, the Korean giant has already adopted several variants of red on some of its devices (Galaxy S10, Galaxy S20 FE, Galaxy S21), but it is the first time that the Ultra version will benefit from this color variant.