Tesla aims to make her Model S Plaid even more effective on the track. The American company has announced that it is starting to release this version of its electric sedan, for the moment only for the North American market, the Plaid Track Mode. This is a mode that, once activated, optimizes the operation of the car for use on the track.
This isn't the first time Tesla has released a track-specific mode. In 2018, the Track Mode was made available for the Model 3 Performance. Since then, Elon Musk's company has worked hard to improve these special driving modes. In the case of the Model S Plaid, as stated by the car manufacturer, the goal is to make the most of the car's powertrain which, as we know, has a power of over 1,020 hp (750 kW). With Plaid Track Mode, Tesla intends to set a new record for production vehicles on the Nürburgring track.
Plaid Track Mode now rolling out in North America

– Tesla (@Tesla)
As we know, in September Elon Musk announced that the Model S Plaid had achieved a record time on the German track in the production car category. The car used should not have already had the new Plaid Track Mode available. Therefore, it is possible that thanks to the new mode for use on the track, it is possible to further improve the time.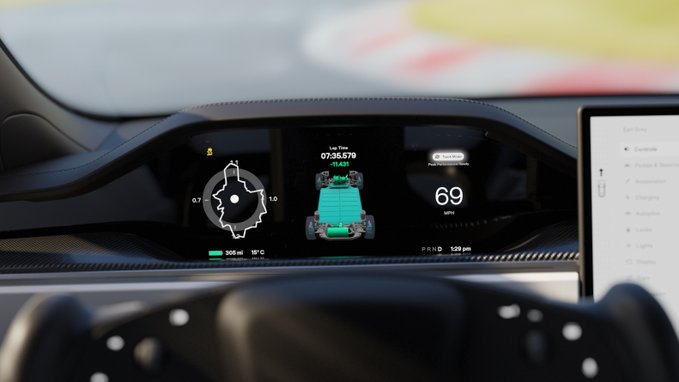 As we know, track driving tends to overheat the engine, battery, and brakes. The new Plaid Track Mode intervenes precisely on these aspects optimizing the cooling of the engines and the accumulator to maintain correct operating temperatures for longer. Tesla has it as well increased power of regenerative braking. In this way it is possible, for example, to recover more energy during braking and put less stress on the braking system.
Plaid Track Mode also goes to optimize torque vectoring. The car automatically adjusts the torque distribution on the rear wheels, independently. The driving mode for the track also intervenes in the setup of the stability control systems for more extreme use of the car on the track and the functioning of the suspensions.
Finally, Tesla has it as well modified the instrumentation interface so that some important information can be provided to the driver such as lap times, temperatures, and much more. Finally, the manufacturer makes it known that over time it will improve the functioning of the Plaid Track Mode.