Tesla ends up under investigation again. There National Highway Traffic Safety Administration (NHTSA) of the United States officially started a formal investigation on the safety risks in the use of video games inside the infotainment system of the American manufacturer's electric cars. As we know, the company of Elon Musk for some time has begun to expand the functions related to the entertainment of the infotainment of its cars, also introducing a series of games.
The problem from which this issue arose stems from the fact that some of these video games can also be started with the car in motion and not just when the vehicle is parked. To point out this peculiarity, The New York Times at the beginning of December. It was discovered, specifically, that the games Sky Force Reloaded, Solitaire, and The Battle of Polytopia could also be run while on the move.
We had wanted to investigate the question and we had been able to verify that it was true. Trying to start them inside a moving Tesla Model 3, only the message "Only a passenger can play Tesla Arcade while the vehicle is in motion. Check the current names before playing giving "confirmation" that whoever was playing was the passenger, you could start playing.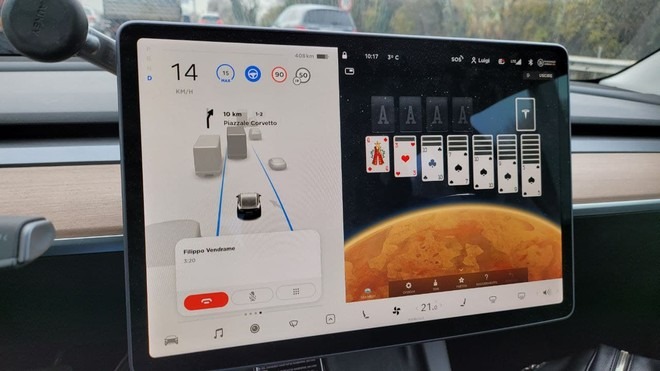 This "verification" may not be enough. The notice asking to confirm that the passenger is playing is certainly not a sufficient deterrent. Solitaire, for example, can be played alone and an unwise driver may decide to play it, perhaps while Autopilot is running.
In response to The New York Times investigation, the NHTSA had made it known of are discussing with the manufacturer of these features. The American agency has decided not to waste time and has launched a formal investigation to see if there is any security risk. After all, driving distraction is a major cause of road accidents.
The investigation is about ben 580 thousand cars between Model 3, Y, S, and X produced between 2017 and 2021. These are cars that have the "Passenger Play" which allows you to run the games even with the car in motion (available from December 2020). All that remains is to wait to find out the result of the investigation.