The new Huawei P50 Pocket is approaching its official debut e it could also arrive in Europe. The smartphone will be the first foldable flip phone home Huawei and the next one will be officially presented December 23, during a special event in China. This is a very important project for the Chinese company that aims to resume growth in the smartphone sector as early as 2022.
Waiting for the official debut, the chances are growing that the new Huawei P50 Pocket will arrive on the international market. The project may not be unique to China. The smartphone was also confirmed by the account Twitter of Huawei Mobile which, usually, does not follow the company's news for the Chinese market only. The tweet defines the new project as "Compact and powerful"And closes with a "Coming soon"Which anticipates the future debut of the project also on the international market.

Huawei P50 Pocket: top specifications and Harmony OS
The new Huawei P50 Pocket will be a flip phone very similar to the Galaxy Z Flip 3 but probably bigger. The smartphone, in fact, should have a 6.85 inch foldable display (about 1.5 inches more than the solution proposed by Samsung). As shown by the first promotional images of the project, already released in China a week after the debut, on the external body of the smartphone there will also be a small secondary display, circular in shape, 1 inch.
The second circular module on the outer shell of the flip phone will house the camera module. The Huawei P50 Pocket will have a triple camera with a 50 Megapixel main sensor supported by two secondary sensors, one 13 and one 8 Megapixel (probably an ultra-wide angle and a telephoto lens). There are still few details on the technical sector. For now, in fact, the presence of r is confirmed66W fast charge but there are no details regarding the battery capacity and the SoC model used. The allocation of RAM and storage is also to be defined.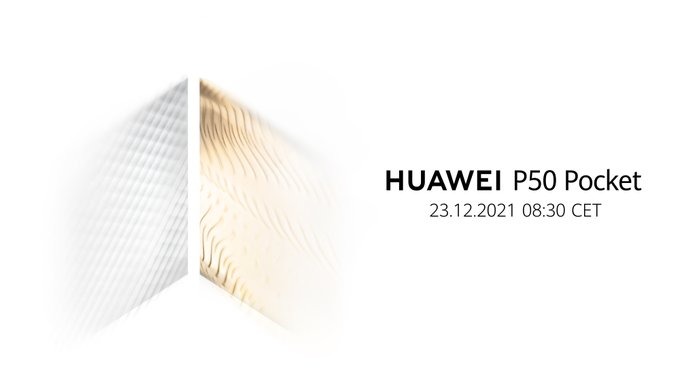 One of the most interesting elements of the project will be the software. The new Huawei P50 Pocket will arrive on the market with Harmony OS. The operating system developed by Huawei will arrive in Europe in the course of 2022 and will have one of its reference points in the new Pocket. As has already emerged in recent weeks, Huawei is aiming for bring the new P50 Pro to the European market, unveiled last summer in China.
In the coming months, therefore, the company could completely renew its range by offering at least two high-end smartphones to support the international spread (also on smartphones) of its Harmony OS. More details will come, for sure, next week. The appointment is set for the next 23 December for the official presentation.