Huawei announces a new update of the Huawei Mobile Services for the European market which concerns more than thirty smartphone models of the brand with at least EMUI 8.0. Let's see what are the improvements and the news.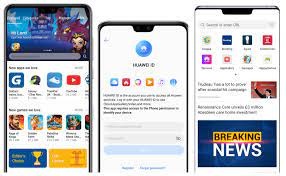 Huawei Mobile Services update: here are the news coming soon
By installing the Huawei Mobile Services update arriving on the Chinese manufacturer's smartphones, users will have more efficient service and some improvements. Here are the main innovations that owners will be able to enjoy:
Huawei Browser: Greater control of the browsing experience, including private browsing and blocking pop-ups. The Newsfeed now includes several new channels including Video, Podcast, and Entertainment, with an algorithm that leverages AI to deliver smarter recommendations. In addition, the promotion "Take the survey and win great prizes" With up for grabs Huawei Mate 40 Pro, Huawei Watch GT, and Huawei Band 4 (here To participate)
Huawei Assistant: the update provides a completely customizable experience in the layout and integrates the new Petal Viaggi service, a search engine to better organize trips by finding flights and hotels
Game Center: after the update, it will be added to the home screen; it is a community where players can find, play and share their favorite titles. It allows you to access exclusive offers and non-interference mode
Petal Search: the search engine has been optimized and offers a full range of services in more than 20 fields
Petal Maps: now offers a smoother navigation experience, with customizable traffic and transport updates and additional details directly on the map; it also provides Head-Up Display (HUD) navigation mode which projects the interface onto the car's windshield. Among the new features, we have "Innovative Lane Guidance" For safer driving and"Offline Maps".
Among the future updates, we can find the Member Center, which will include information, offers, and tutorials for apps and services, Huawei Books, And LinkNow (communication platform and educational services). The upcoming update will also allow you to more easily discover the news on AppGallery and to better manage their apps.
Have you already found the notification to update the Huawei Mobile Services on your smartphone?