Xiaomi Mi Smart Clock Review – More than a year has passed since the market launch of Xiaomi Mi Smart Clock, a cross between a smart display and a smart alarm clock. Characterized by decidedly more compact shapes than those of a Nest Hub, the small device is often and willingly on offer, making it attractive for those looking for a valid solution for controlling their smart home.
Thanks to Xiaomi who sent me a sample, I then had the opportunity to "play" with it for a while, integrating it into my home system and using it for a few days, to evaluate its actual usefulness and limits. Here are my impressions and final evaluations.
A good voice assistant
Xiaomi Mi Smart Clock was born as an economic version of Nest Hub, making it ideal for replacing a traditional bedside alarm clock or a clock in the other rooms of the house. It features one compact 3.97-inch screen with 800 x 480-pixel resolution, more than enough to display some information.
Its most interesting feature is given by the presence of Google Assistant, which turns it into a valid voice assistant to turn to in case of need. The initial configuration requires the installation of the Device Utility, which is essential to activate the small device and be able to configure it through Google Home.
For the rest, the procedure is identical to that of other smart displays and takes only a few minutes to complete. In the end, just choose the quadrant from the eleven available, including your images on Google Photos and the featured photos selected by Google. The touch screen allows you to scroll through the settings to see the open apps, configure alarms, start routines, and more generally what you can do with a common smart display.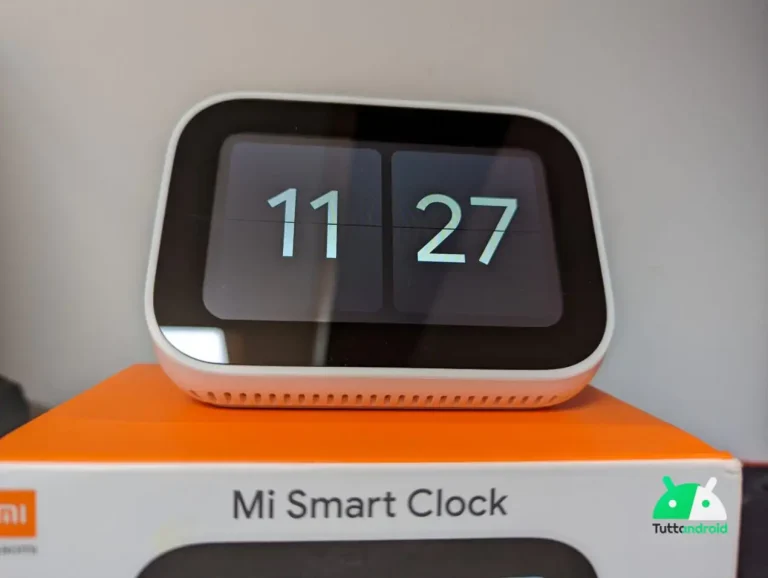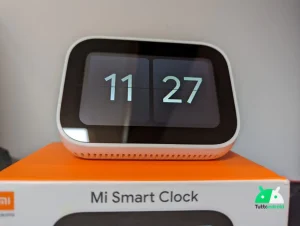 The swipe from above allows you to quickly adjust the alarm, start the good morning routine and listen to some music, therefore ideal for those who decide to use Mi Smart Clock as a bedside alarm clock. A swipe from the bottom allows you to adjust the brightness of the screen, the volume (which can be adjusted using the buttons at the top), activate the do not disturb mode, and enter the system settings.
Activation requires the hotword "Hey Google" which is always recognized even with a fair amount of ambient noise. These days I kept Mi Smart Clock on my desk less than a meter from me, without encountering recognition problems, but even by questioning it from a few meters away, the Google assistant has always understood the questions and answered accordingly.
Smart alarm clock or smart display?
At first sight, Xiaomi Mi Smart Clock looks like a miniaturized version of a Nest Hub, just to mention the most famous of smart displays, but in reality, it would be more correct to talk about a smart clock or smart alarm clock. There are indeed some limitations that differentiate it from a common smart display, which must therefore be taken into consideration before purchasing.
Although capable of showing images from your Google account, extemporaneously, or as a generic dial, the Xiaomi display is decidedly small unable to show videos or images from the Net. Support for the video part of Chromecast is missing, so you won't be able to view YouTube videos, but you won't be able to ask for an image of a famous animal, place or monument to be shown.
However, you can set up an audio service, such as Spotify or YouTube Music, and listen to your favorite music even without a subscription, obviously with commercial breaks. Important limitations, therefore, which, while not compromising its usefulness, significantly restrict the field of use of such a device.
It must be said that in the name, Mi Smart Clock, what is the real function of the product is written: a smart alarm clock capable of providing numerous additional functions, which would usually require the use of a smartphone. A different alarm than usual, the ability to control connected devices, to interact vocally with Google Assistant to always receive convenient information, and much more.
It is therefore not the ideal assistant for the kitchen, since it will not be able to show you the necessary steps to complete a recipe or a second screen on which to follow a presentation while you are working or on which to watch a music video in moments of relaxation.
In conclusion
Xiaomi Mi Smart Clock, therefore, falls into that category of products whose usefulness is indisputable but conditioned by some limitations, which for many could be interpreted as shortcomings. These shortcomings certainly do not detract from the usefulness of the product, especially to control home automation devices through voice commands, but the purchase of which must be evaluated under the use it will be intended for.
The list price of 59.99 euros is perhaps slightly high compared to the possibilities it offers, but you can often find it on offer at 49.99 euros, even on the official store, a price at which it is more attractive. Occasionally, however, you can also find it at a lower price, 29.99 euros. In these cases, it becomes almost a compulsory purchase that you are looking for an economical way to bring a voice assistant at home and you have no particular needs.