The Chinese online sales giant is preparing to launch the Xiaomi Watch S1, which should arrive by the end of the first quarter of 2022 in Europe and some Asian markets. After being pushed to third place by sales volume of wearable products, Xiaomi is more determined than ever to prove its ability to make its way into a market it now sees Samsung and Apple share the biggest piece of cake.
After the launch of Xiaomi Mi Watch Color 2 and Xiaomi Mi Watch Revolve – and its sporty brother Revolve Active – the Beijing-based company could inaugurate the next generation of smartwatches with Xiaomi Watch S1. This is a smartphone that, according to the latest rumors, would be dedicated to more sporty users, and this can also be seen from the letter "S" in the name, which could indicate the word "Sport".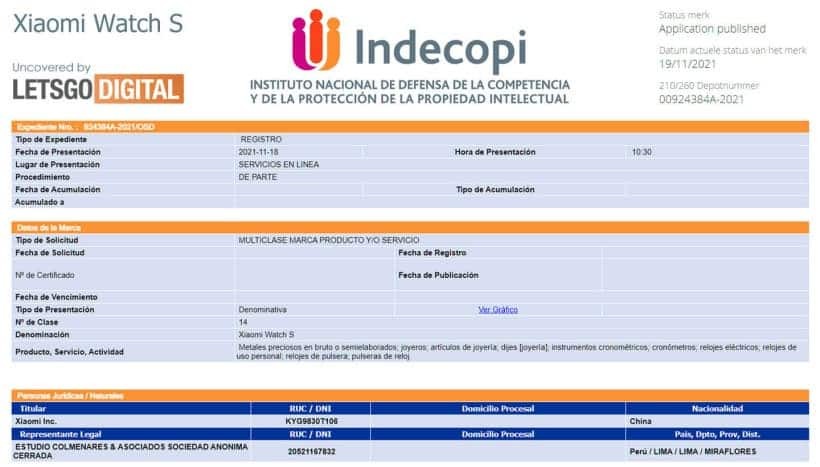 The technical specifications of this smartwatch are not yet known, but only of its existence from clues and rumors that chase each other on the network. Last November, Xiaomi Inc. presented an official application to register the trademark in Peru at the Instituto Nacional de Defensa de la Competencia y de la Protección de la Propiedad Intelectual (INDECOPI).
From the name, it appears that Xiaomi is in the process of abandoning the Mi nomenclature for its line of smartwatches. While the company tries to regain control of smartwatch sales, the success for the Mi Band 6 does not stop, which in the NFC version is now a versatile and complete product. If you don't believe us, take a look at our review, you can find it below.
You might be interested in Guide to buying the best smartwatches with and without Wear OS