Samsung Galaxy S21 FE was officially presented only on January 4, 2022 (after an endless series of rumors), but in a few days, its price is collapsing thanks to some interesting offers. This time the opportunity is offered by MediaWorld, which allows you to combine discounted prices and coupons to go below 520 euros.
Samsung Galaxy S21 FE is already under 520 euros with this offer
Samsung Galaxy S21 FE was unveiled about ten days ago and is officially on sale (a few cases apart) from 11 January 2022 at a fairly high recommended price, especially when compared to the street price of the Galaxy S21 series (concerning which it can perhaps guarantee an extra version of Android): we are talking about a price list of 769 euros for the 6-128 GB version and 839 euros for the 8-256 GB version.
The first variant is available from MediaWorld at a much lower price, i.e. 518 euros in the Lavander (purple) color thanks to the automatic shopping cart discount and the additional discount coupon GALAXY30 to be added once added to the cart, as shown in the image below.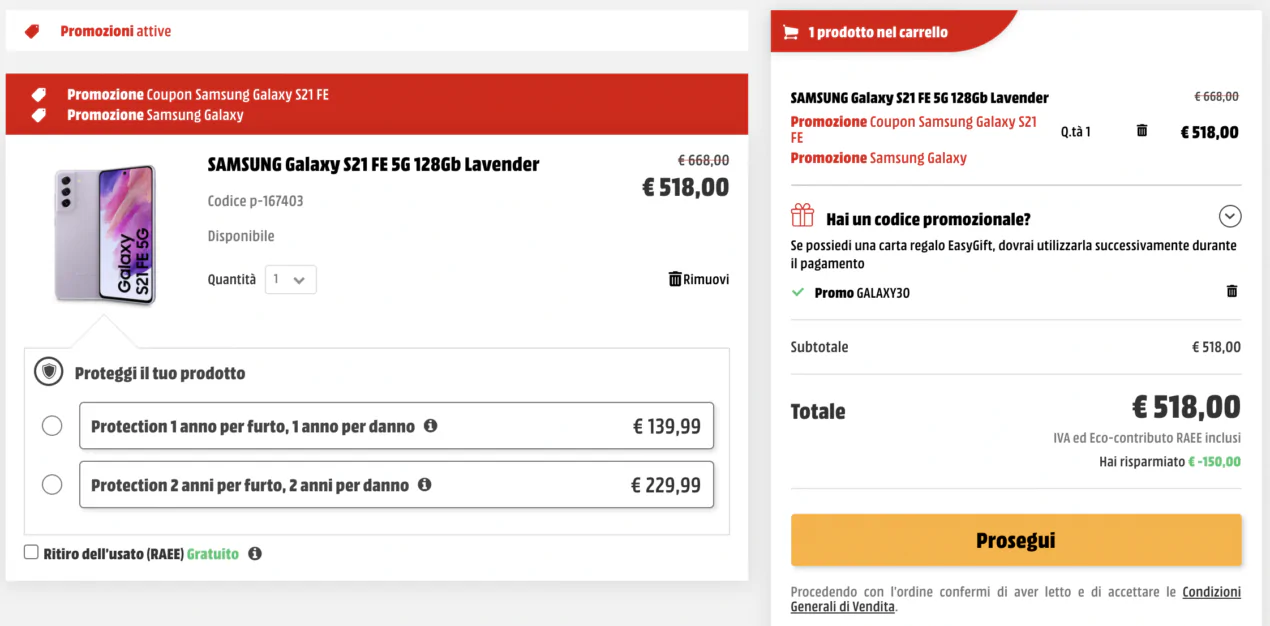 Samsung Galaxy S21 FE (Olive Green) instead can be purchased on offer from MediaWorld in the 6-128 GB version at a final price of 569 euros, about 49 Euros more, in short, it depends a lot on the color.
We remind you that the smartphone offers Android 12 (with One UI 4.0) and a level technical data sheet, with AMOLED display from 6.4 inches Full-HD + at 120 Hz, Qualcomm Snapdragon 888 SoC, triple Dual Pixel rear camera with OIS, 5G connectivity and 4500mAh battery (with 25W fast charge). If you are interested in buying, you just have to follow one of the links below. The coupon is valid for the first 500 pieces sold and will expire in any case on January 31, 2022.
Buy Samsung Galaxy S21 FE 6 – 128 GB Lavander on offer ! -120 € per cart + coupon -30 €: GALAXY30
Buy Samsung Galaxy S21 FE 6 – 128 GB Green on offer | -120 € per cart + coupon -30 €: GALAXY30
If adding to the cart gives you an error, try again.
You might be interested in the Samsung Galaxy S21 FE review