Tesla will announce important news on the roadmap of its products in a few days, precisely on January 26. We will certainly also talk about the expected Cybertruck electric pickup that we have discussed many times. We'll probably know more about the production plans – the debut seems to be postponed to early 2023 – and its final specs. While waiting to finally discover something more, from the Cybertruck Owners Club arrive a series of photos that show a close-up of a prototype of the electric pickup. This is an opportunity to see where the development of this model is and discover the differences with the prototype of the 2019 presentation.
Looking at the photos you immediately see that there are no door handles. In the past, Elon Musk had stated that the goal was to get to remove the handles from the doors of the Cybertruck that would open, instead, through a mechanism that reacts to the presence of the owner.
The presence of the classic rearview mirrors. As we know, due to American rules, it is not possible to equip the pickup with a system based on external cameras. However, Elon Musk had previously made it known that the Cybertruck was designed to quickly remove traditional rearview mirrors to install external cameras wherever possible.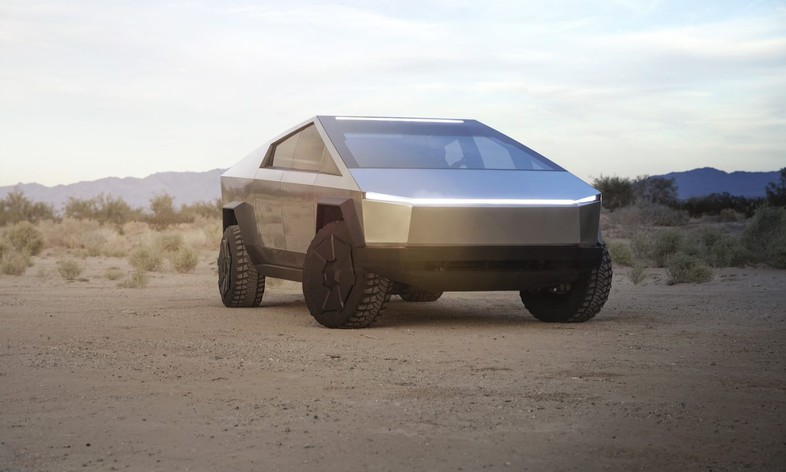 Pictures allow you to see the windshield wiper as well which will be composed of a single large brush as we had already glimpsed in the past from a film taken, however, from afar. The shots then allow you to notice as the rims do not have the aerodynamic cover view so far. The design, however, looks a bit like that of the Model 3 rims. It is to be understood whether the final version of the electric pickup will have the aerodynamic cover or will do without it. The front has also been modified and is now a little shorter.
As for the changes to the overall proportions of the vehicle, these few images do not allow us to understand much. Some changes may only be the result of the perspective of the image. Recently, speculation has arisen as to whether the pickup was at the end proposed in two different sizes.
Subsequently, a video has also appeared on the net which shows the Cybertruck in even more detail. The video we offer.