The function of Universal Control has been postponed again by Apple. After the release of macOS 12.1, in the past few hours, the page of the official site which lists all the Monterey news has been updated with the writing "coming this spring" located just below the description of the function.
Officially announced as part of macOS Monterey and iPadOS 15 during WWDC 2021 last June, the Universal Control feature promises to use one keyboard and one mouse to control multiple devices at a time, by moving the cursor between the various screens on a Mac or iPad or dragging content from one device to another.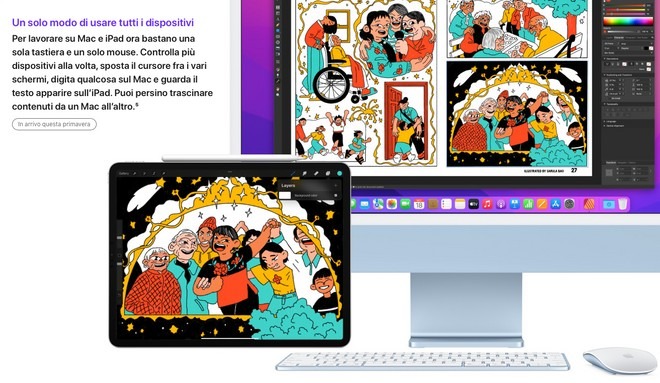 To date, despite almost six months have passed, Apple hasn't even started testing this feature in the beta versions of its operating systems, a sign that there is still a long way to go. In recent months, Apple had initially updated the page on its site to indicate "this fall" as the period of availability of the feature.
Universal Control wasn't the only feature that had to "skip" the official debut of macOS 12 Monterey. SharePlay, one of the main innovations of these new versions of Apple's operating systems, a function that allows you to share your screen and everything you watch or listen to via FaceTime, arrived on iOS on October 25 and on macOS yesterday, with version 12.1.