After publicly releasing macOS Monterey version 12.1, Apple has made available to developers the first beta of macOS Monterey 12.2 (build 21D5025f) as well as a beta version of macOS Big Sur 11.6.3 (build 20G405) which probably contains mainly updates related to system security and stability.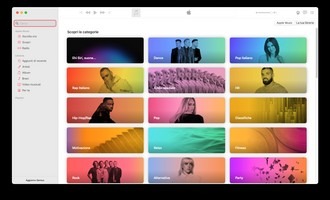 Even in this new version of the MacBook and iMac operating system, one of the main features announced at WWDC 2021, Universal Control, is still missing. Silently, by updating only the news page in Monterey, Apple has de facto postponed this feature to next spring as, evidently, it still needs a lot of work to be perfected.
The Universal Control function, we recall, promises to use a single keyboard and a single mouse to control multiple devices at a time, moving the cursor between the various screens of a Mac or an iPad or dragging content from one device to another.
In this beta, however, there are still several new features. Between these, a whole new Apple Music app, recompiled using AppKit, the macOS native interface framework, which replaces the current one that has so far kept the iTunes backend which is a bunch of web content loaded into an app.
Apple had replaced iTunes with Apple Music in 2019, with the arrival of macOS Catalina, but I hadn't completely revamped the app which only had some native parts, including the music library. With the new Apple Music app, everything is now faster and smoother, and also search results pages are displayed with a native interface instead of as a web page.
Comparing the old and new app, however, the beta one looks a little more basic, still lacking some interface effects that Apple is probably still tweaking. We will see with the next releases if there will be any evolutions.
Another novelty present in this first beta of macOS 12.2 Monterey mainly affects the owners of the new 14 and 16-inch MacBook Pro that should finally have a smoother scrolling of web pages in Safari thanks to better use of ProMotion technology that allows you to increase the refresh rate up to 120Hz of the panel.
Of course, this is only the first beta and there will most likely be many more before the public release of this release.