The difficult period continues for the European car market. According to data released by ACEA (the European association of car manufacturers), in November 2021 have been registered at the European Union level 713,346 cars, equal to a decrease of 20.5% in the same period of 2020 (897,332). A decline, however, less than that of October. In terms of volume, this was the worst result of November since 1993. If we also want to consider the United Kingdom and EFTA countries, 864,116 cars were registered with a decrease of 17.5% in 2020 (1,047,056).
Going to look at the numbers of 2019, 1,020,023 cars had been registered in the European Union. Taking into account the UK and EFTA, registrations rise to 1,211,545. Compared to two years ago, therefore, the decline is even more marked. Returning to 2021, ACEA reports that there have been double-digit drops in many European Union markets, including three of the four main markets: Germany (-31.7%), Italy (-24.6%), and Spain (- 12.3%).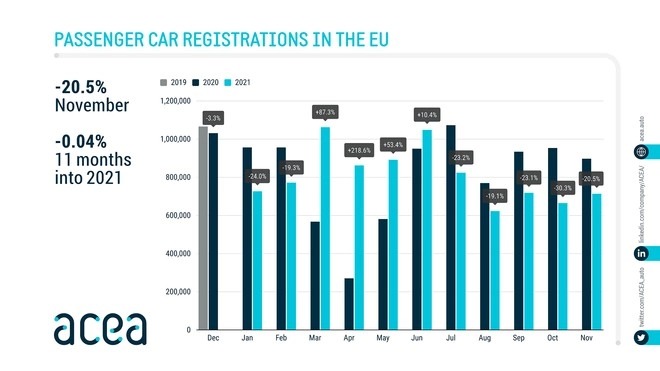 The French market recorded only a modest decline of 3.2%. In November 2021, Bulgaria, Ireland, and Slovenia were the only growth markets in the EU. Looking at the current year, this is the fifth consecutive month of loss. ACEA points out that the main reason is to be found in the problem of the supply of semiconductors which negatively impacted the production of cars. As a result, as we know, the delivery times for the new cars are significantly lengthening.
This negative trend of the last few months is standing thinking a lot about the entire year 2021. Registrations in the first 11 months of the year at the European Union level showcase a decrease of 0.04% in 2020. A "heavy" figure considering that in the first part of 2021 there was a strong recovery facilitated by the fact that in the first months of 2020 the auto market was practically paralyzed due to the lockdown. (Compared to the first 11 months of 2019, the decrease is 25.6% – EU + UK and EFTA figures)
Looking at the results of automotive groups there is little to say given the situation. Most show heavy dips. The Volkswagen Group, for example, ends November 2021 with a decline of 33.7% (on 2020 and at the European Union level). The Stellaris Group, on the other hand, sells 23.5%. Decrease of 12.9% for the Renault group. The Hyundai Group did well with a growth of 20.9%.
At this point, all that remains is to wait for the December data to take stock of the year 2021 of the European car market.