The first electric Ferrari, as we know, will make its debut in 2025. Maranello, however, has not provided any details of what this car that will represent a turning point in its history could be. A clue about its characteristics comes from a Ferrari patent filed with the USPTO (the United States Patent and Trademark Office). The patent is simply titled "ELECTRIC OR HYBRID SPORTS CAR" and refers to an architecture for an electric sports car but which can also be used for a hybrid model.
The patent in question was filed in June 2019 but was only recently published.
BATTERIES MOUNTED IN CENTRAL POSITION
The most interesting aspect that can be seen is that the Prancing Horse has chosen to place a large battery pack centrally, where he usually places the engine of his sports cars. The accumulator capacity has not been specified. This solution should allow the sports car to maintain the classic driving behavior of models equipped with a central engine.
However, this will not be the only battery on the car. The patent speaks of up to three smaller additional separate units placed on the car bed. All accumulators, including the largest one, are mounted on a kind of subframe. This system would make it possible to easily adopt the same technical solution on more types of cars, even if they are not strictly 100% electric.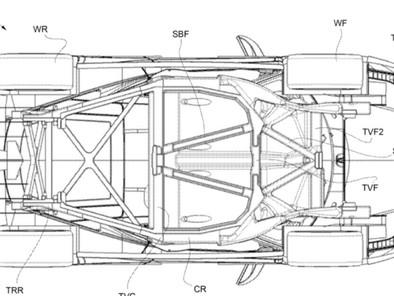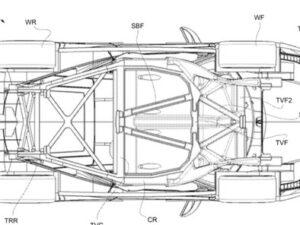 The patent explains that any internal combustion engine can be placed in front or behind the large battery pack. The rear of this subframe where the large battery is housed is angled slightly upward. A choice that is explained for reasons related to the development of the aerodynamics of the lower part of the car, to increase the load.
As for the battery pack, we are talking not only about cylindrical cells but also prismatic and bag cells. This will allow Ferrari to choose the most suitable solution according to its needs. The documentation also shows some vague aesthetic interpretations of what this vehicle might look like, although these are usually not representative of a production model.
The patent is interesting above all because, before this moment, technical details on Maranello's technical choices for its electric were in short supply. We hope to find out more soon.