Mercedes Benz Vans has a consolidated position in the motorhome market thanks to the Marco Polo family of compact motorhomes but is now ready to enter the zero-emissions future even in the world of campers. One of the first eCamper ready for market launch is based on the electric EQV and is characterized by the presence of a folding roof, a sleeping unit for the rear compartment, and a kitchen module in the luggage compartment.
Klaus Rehkugler, Head of Sales and Marketing Mercedes-Benz Vans said:
The motorhome market is of strategic importance to Mercedes-Benz Vans. Our goal is to continue growing in this sector and play a pioneering role in innovation and sustainability. From our point of view, one thing is certain: the future is electric, even as far as the camper sector is concerned!
Mercedes-Benz Vans EQV is the battery variant of the V-Class mid-size van. The Mercedes EQV is offered in two different variants: the EQV 300 has a 90 kWh battery and a range of 326-363 kilometers (WLTP) while the EQV 250 is equipped with a 60 kWh battery and a range of 213-236 kilometers (WLTP).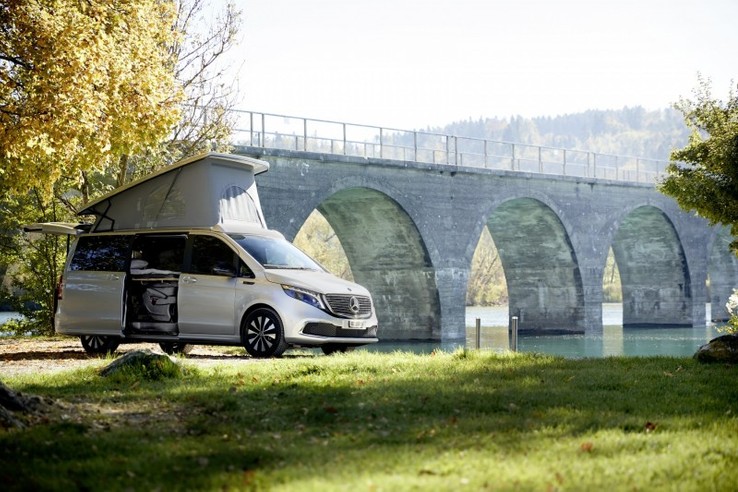 Both models are available in two lengths: the "standard" version measures 5,140 cm while the long one measures 5,370 cm. But how long does it take to recharge? On average, the EQV 300 can be recharged from 10 to 80% in about 45 minutes via a fast-charging station.
While if we are traveling we will be able to take advantage of the integrated electric mobility ecosystem. In a nutshell, we will take advantage of intelligent navigation with active autonomy management, checking on the navigator, integrated into the MBUX (Mercedes-Benz User Experience) infotainment system, the presence of recharging columns available during our journey.
The road to even more sustainable mobility, however, passes through the EQV concept developed by the Sortimo company. In this case, the van is characterized by the presence of solar modules for greater sustainability and self-sufficiency.
In the full-optional version, you can take advantage of a folding roof with a bed integrated into the roof and a multifunction box equipped with a bed and kitchen unit. The kitchen unit uses two extractable gas hobs, a refrigerator box as well as drawers for cutlery, kitchen accessories, and supplies.
In addition to the power provided by the electrical unit, the two solar panels add one total power of about 400 watts, which Sortimo can install on request. These are capable of charging both the starter battery and the extra battery during camping stops.