After updating the Vito Tourer with a new battery that has made it possible to have greater autonomy, Mercedes has decided to update the eVito electric van with a new accumulator to give professionals greater flexibility of use thanks to greater mileage. Today, this van is only offered with a 41 kWh battery (35 usable kWh) which allows autonomy according to the WLTP cycle up to 150 km.
Thanks to the technical innovation introduced by Mercedes, the new electric van will also have one 66 kWh battery (60 kWh usable). Thanks to this greater capacity, autonomy reaches 242-314 km depending on the load and driving conditions. In alternating current, the battery can be recharged up to 11 kW. In direct current, on the other hand, up to 50 kW. However, on request, it is possible to increase the maximum power of the DC power supply to 80 kW.
The engine, on the other hand, has not undergone any changes. Thus, we always find a unit capable of delivering one peak power of 85 kW (116 hp). Continuous power, on the other hand, reaches 70 kW (95 hp). The electric powertrain also provides 360 Nm of torque. As standard, the electric van can reach a top speed of 80 km / h. Among the options, it is possible to increase the top speed to 100 or 120 km / h. Mercedes, with this technical upgrade, has not introduced the powertrain of the Tourer variant with a 150 kW engine.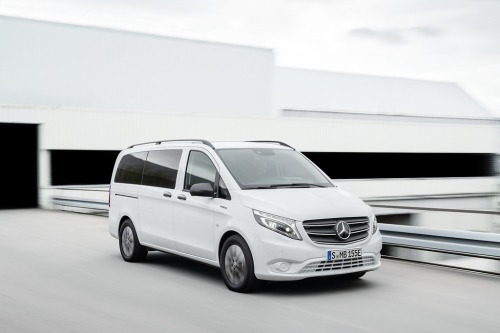 Thanks to the new accumulator that brings greater autonomy, Mercedes also aims to expand the audience of possible buyers of its electric commercial vehicle. It is worth noting that the accumulator is always positioned under the floor of the car. Therefore, the load capacity is not affected by the presence of the new battery. The van is able to offer a load capacity of up to 6.6 cubic meters.
For the moment, the editor with the new battery is not yet available in Italy. The model with the smallest capacity accumulator starts at € 53,342.06.