We have seen that Microsoft is trying to improve the repairability of your Surface devices, at least in some models and where possible; the next step in this direction was announced in the past few hours and involves those who are the kings of do-it-yourself tech repairs or the guys from iFixit. The two companies have made one partnership to create specialized tools and kits for the repair of Redmond devices; however, they will not be available for purchase for everyone, but only for the following entities:
Microsoft Authorized Service Provider
Microsoft Experience Center
Microsoft Commercial customers
Subscribe to iFixit Pro
Microsoft will take care of the design, while iFixit will take care of the material realization and sale. The first tools born from this collaboration are: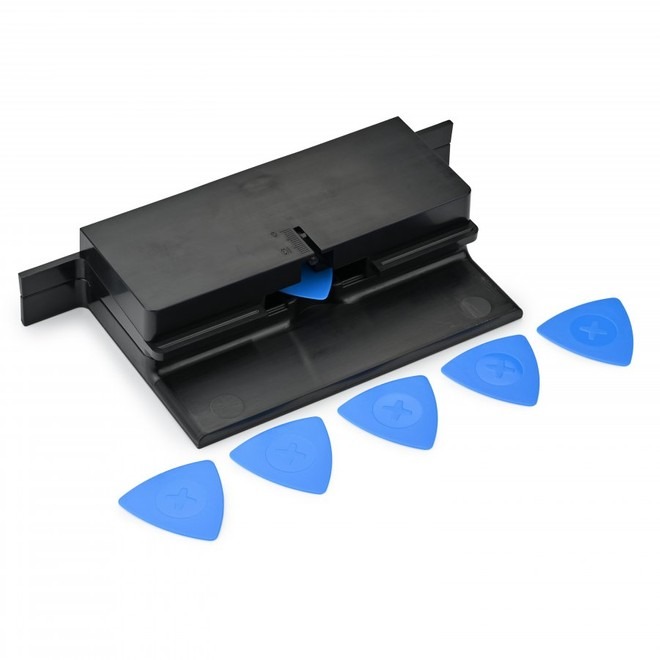 Surface Display Debonding Tool (image above): This allows you to detach the display of compatible devices (Surface Pro 7 Plus, Surface Pro 8, and Surface Pro X) from the body with relative ease.
Surface Display Bonding Frame: This allows you to reattach the screen to the body. It comes in two variants: one for Surface Pro 7 Plus and one for Surface Pro 8 and Pro X.
Surface Battery Cover: Placed on the open device to make sure there is no accidental contact with the motherboard and other sensitive components. It is compatible with all Surface Laptops from 3 onwards, in more detail:

Surface Laptop 3 13.5 "
Surface Laptop 3 15 "
Surface Laptop 4 13.5 "
Surface Laptop 4 15 "
Surface Laptop Go
Surface Laptop SE
Surface Laptop Studio
iFixit Pro independent repairers, Microsoft Authorized Service Providers, Microsoft Experience Centers, and Microsoft Commercial customers can now purchase Microsoft service tools for Surface devices directly from iFixit

– iFixit (@iFixit) December 13, 2021
The news comes at a time when the debate on the right to reparation is becoming increasingly heated. In recent weeks, Apple has announced a historic decision, namely the opening of the Self Service Repair program: anyone will have access to documentation and various resources to fix their devices independently. For its part, Microsoft with some of the most recent Surface has shown greater attention to this issue: the Surface Laptops, in particular, have gone from 0/10 (Laptop 2) to 5/10 (Laptop 3) according to the evaluations of iFixit.
iFixit is keen to point out that despite this partnership will continue to provide independent guides, information, and guidance on current, past, and upcoming Surfaces.