Motorola has presented at CES 2022 an adapter for wirelessly connecting smartphones to the units Android Auto infotainment that does not foresee it: it is called MA1 and will arrive, at least in the US, at the end of January, at a list price of 90 dollars. It connects via a USB port and uses both Bluetooth (for pairing with a smartphone) and 5 GHz Wi-Fi (for data transfer).
There are still very few infotainment systems on the market that support wireless Android Auto, so this dongle can be a relatively inexpensive way to get one. The wireless mode has its drawbacks – it consumes more and additionally does not recharge the smartphone in the meantime – but it can be argued that for a not too long home-work, some quick commissions in the city and more generally all short journeys are more. which is counterbalanced by the convenience of not having to take your smartphone out of your pocket and connect it to the cable.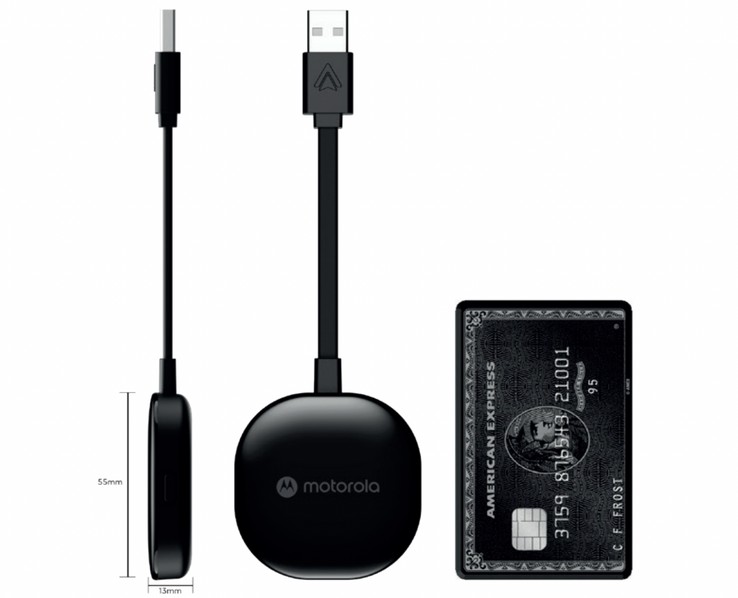 The dongle resembles the newer Chromecasts and includes some adhesive on the back to secure it in a comfortable position in the cockpit. It is interesting to observe that it is not produced directly by Motorola, but by China's SGW Global, which has signed agreements to exploit the licensed brand.
The official specifications say that the dongle is compatible with any smartphone with Android 11 or newer on board; of course, the infotainment must support Android Auto, and the smartphone must have an active cellular data plan. Motorola MA1 is almost the only product of this type, and consequently has good potential for success. In the summer of 2020, a similar dongle, AAWireless, had arrived on Indiegogo, with over € 4 million raised. At the moment as many as 16,000 units have been shipped, and many more will arrive in March. This dongle is also cheaper than Motorola's, at € 75. The next shipments will take place in March, for those interested. Find all the details on the official Indiegogo page in the link in SOURCE.