The Tesla Model S Plaid has proven to have tremendous potential in terms of performance, so much so that it has hit the record for electric cars on the track of the Nürburgring. An even more significant record considering that the car was practically standard. For those who intend to bring this high-performance electric sedan to the track, Elon Musk's company has made available, for the moment only in America, a kit that includes carbon-ceramic brakes.
Designed for the ultimate track experience, the Model S Plaid Carbon Ceramic Brake Kit is a complete package that delivers maximum repeatable stopping power multiple times while driving on the track.
Thanks to this kit it will therefore be possible to improve the performance of the Model S Plaid braking system, especially during use intended on the track when temperatures rise significantly. A kit that certainly does not cost little since those interested will have to shell out a good 20 thousand dollars to which must be added the $ 4,500 for 21-inch wheels "Arachnid Wheels ".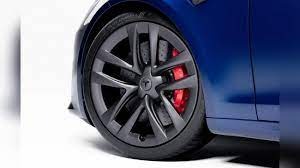 In fact, the carbon-ceramic system is only compatible with these rims. But for those who don't have budget problems and are thinking of taking their Model S Plaid to the track, the very expensive accessory could make the difference. However, it will take some time for it to be available.
According to what can be read on the Tesla shop (link in SOURCE), availability is expected for mid-2022. This specific track kit may not be the only one the company will make available to its customers. It will be interesting to find out what Tesla will dedicate specially to the Model S Plaid.
Finally, please note that this model, in Italy, costs 129,990 euros. Those who book it today will have to wait a long time since delivery is scheduled for the end of 2022. The Tesla Model S Plaid has 3 electric motors and an output of over 1,020 hp (750 hp). The maximum speed reaches 322 km / h and to go from 0 to 100 km / h takes just 2.1 seconds.