Elon Musk announced that Tesla will begin to accept Dogecoin cryptocurrency for purchases in your online shop.
Tesla will make some merch buyable with Doge & see how it goes

– Elon Musk (@elonmusk) December 14, 2021
Tesla's CEO did not share any other details of this interesting news. At the moment, his online shop where he sells car accessories, clothes, and gadgets of various kinds, has not changed. It will therefore be interesting to find out when it will be possible to buy the items using this cryptocurrency.
One cannot fail to remember Musk's great interest in cryptocurrencies. In February, Tesla announced that it had invested $ 1.5 billion in Bitcoin. Subsequently, the automaker began accepting this cryptocurrency for its car purchases. At the same time, he had also spoken very highly of Dogecoin, so much so that it was thought that the company intended to accept this cryptocurrency as well for the purchase of its electric cars.
However, in May, Elon Musk decided to remove the ability to buy cars with Bitcoins. The reasons for that change of plans had been, at least officially, related to the concern that Bitcoin miners, engaged in an activity that notoriously requires large amounts of electricity, were exploiting polluting energy sources.
Subsequently, Tesla's number one claimed that the company would accept Bitcoins again when at least 50% of the energy used by the miners was clean and with this growing trend. The latest update on the cryptocurrency theme, Elon Musk gave it last summer when he stated that Tesla would resume using Bitcoin in the future as he saw an improvement in the use of clean energy by miners.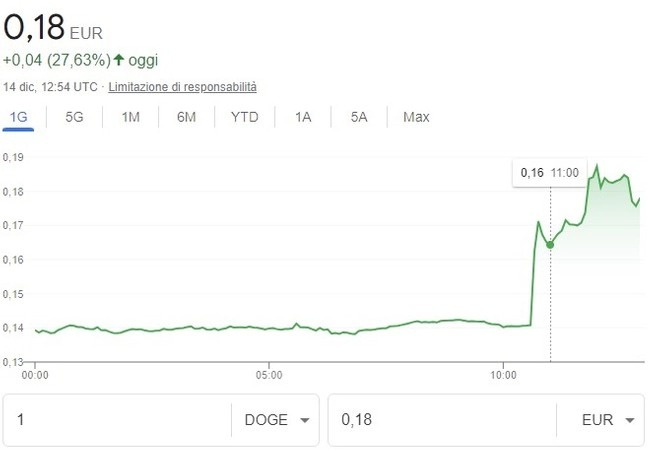 Now comes the news that closely affects Dogecoins. As reported in the Twitter message from Elon Musk, we will start using this cryptocurrency within the online shop and then we will see how things will go. The news obviously had a positive impact on the quotation of Dogecoin which, at the moment, is growing by 27%.