At the 2018 Geneva Motor Show, Volkswagen presented it as the first concept ID. Vizzion. What it was? A sort of very first "sketch on four wheels" which was to represent one elegant sedan with 100% electric motor. The concept presented to the public was also shown in the form of a station wagon the following year while now, it is time for the first test drives on the road in the company of the test drivers.
Presumably, his full name will be ID.7 and if everything goes as it should go, we could soon see it arrive on the market, to be precise in 2023.
Meanwhile, in the Old Continent, you can already admire the test raids of the four-door sedan, which in its version in the form of a prototype shows us an aesthetic very similar to the one we could see a few years ago. Therefore, by looking closely we can see a full grille and which touches both eyes of the LED headlamps, while below them there is a nice triptych of air intake. Although, on closer inspection, the only slits that seem real are positioned at the bottom, while the most extreme are fake and also act as housing for the fog lights.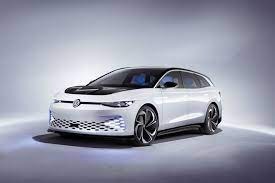 The rims are generously sized and seem to carry a specific and slightly aerodynamic design. The side? I would dare to say dynamic with some aesthetic ambitions that emphasize sportiness. Look for example at the rib that runs along the entire side. Pretty right? Even better is the recess in the lower part of the door. The Macho Man character does not suit him.
More sober is the tail with large rear light clusters, with a particular shape with that small appendix that enters the field in the rear hatch area and with (perhaps) fake exhausts with a diffuser. The hint of a rear spoiler is also well on him. The slightly raised tail increases the feeling of overall dynamism.
There is no certainty about the size or the composition of the motor equipped with the strength of the electron. Here then I will limit myself to giving you the dimensions of the Volkswagen ID. Vizzion concept: 5163 mm in length with a 3100 mm wheelbase.
The motor? Double. The double electric unit could develop up to 306 hp and it went hand in hand with the 111 kWh battery. With two engines to exploit, four-wheel drive was guaranteed. And now some data: 6.3 seconds to burn 0 to 100 km / h and a range of up to 665 km in the WLTP cycle.