By 2030, Volvo intends to become an electric-only brand. To reach this milestone, the automaker is announcing a series of investments in strategic areas. For example, the automaker recently disclosed more details of the battery factory it will build with Northvolt. Now, the brand has announced a major new project for its electrification strategy which involves an investment of 10 billion Swedish kronor, or just under one billion euros.
Volvo intends to restructure the Torslanda plant, in Sweden, where it will produce the next generation of fully electric cars. The news is as interesting as the company intends to follow the path taken by Tesla with the Giga Press.
LIKE TESLA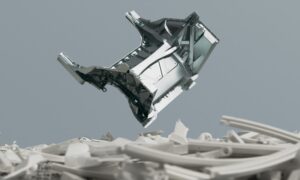 Volvo highlights that it will introduce several new and more sustainable technologies and manufacturing processes at its site. In particular, it will use mega-casting technology for aluminum body parts. Let's talk about a technique that we learned about with Tesla. Technology that allows you to replace different parts of the bodywork with a single aluminum element.
A technical choice that brings several advantages, including a simplification of production that should also make it possible to save on car production costs. Furthermore, the printing of different parts in a single aluminum element reduces the weight of the vehicle, which in turn improves its energy efficiency and therefore its electric range. This allows Volvo's designers to make optimum use of the space available in the passenger compartment and load compartment, increasing the overall versatility of the car.
But the news for the Torslanda site goes beyond the implementation of mega-casting technology. Indeed, Volvo announces that modifications will be introduced to the painting plants that involve the installation of new machinery and the implementation of new processes, which will favor the constant reduction of energy consumption and emissions of this department.
In addition, a new battery assembly center will arrive that will integrate the battery cells and modules into the car's floor structure. The assembly department will be refurbished to adapt to the processing steps foreseen for the next generation of 100% electric models.
Logistics and employee refreshment areas will also be renovated. Today, the Torslanda site has a annual production capacity of 300,000 cars. Around 6,500 people work within it.