Volvo is working on a "premium" electric SUV that will present a smaller size of the future XC90. It is a model that could be called XC20 or C20. Thanks to an Autocar report it is possible to discover some small further details of this vehicle. This model will be the first of the manufacturer to adopt the SEA platform developed by Geely. This is the same platform that was used for the Zeekr 001 whose production started recently.
This model could therefore suggest the specifications that Volvo's new SUV and all subsequent battery-powered models of the Swedish manufacturer that will use this platform could also have in the future. 001 can be chosen with 86 or 100 kWh batteries and it can be had with one or two electric motors with power up to 400 kW. Furthermore, according to Zeekr, Geely's premium brand, the accumulators can recharge up to one maximum power of 360 kW. Obviously, there will be time to find out more details on the specifications of the Volvos that will use the SEA platform but model 001 already provides some first interesting clues.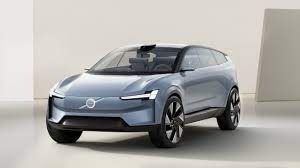 Autocar also tried to imagine how this new electric car from Volvo could be and the result is the rendering that you can see. The debut of this new model is expected in 2023.
Polestar is also working on a smaller SUV than the Polestar 3 which will arrive in 2023 and which will be called Polestar 4. It should be closely related to the electric Volvo C40 and therefore, according to Autocar, it is likely to adopt the CMA platform. This would mean the possibility of having one or two electric motors and 64 kWh or 78 kWh batteries. Compared to the Polestar 3 of which we recently saw a first real image, it will have a more curved roofline without this detail penalizing the interior space.